Why choose IPSO Biz?
Support businesses by providing quality, affordable software.
Ensuring the growth of SMEs with innovative management software.
Providing our customers with excellent customer service.
The MODULES that you need !
System features: key elements
Security (Network version only)
User access can be controlled for each module and if needed, you can set up access for each window. Users can only access areas with permission.
SQL solid (Network version only)
The IPSO Biz multi-user system runs on HyperFileSQL because of its high capacity and low cost. SQL licenses are included in all multi-user versions.
Built for performance
More than 75 KPIs have been integrated into IPSO Biz, making it easy to obtain up-to-the-minute statistics for optimal decision-making.
Communication templates
Power up your company's image by setting up communication templates to handle all email and other communications. Most of the roughly 600 "Business-in-a-box" letter and email templates are compatible.
Multilingual
Users can select their interface language (French or English). Main documents (purchase orders, invoices, packing slips and all communications) can be created in the language of the contact.
All-in-one ERP
All modules of IPSO Biz are tightly integrated for optimal organizational performance and reduced lead time.
Integrated CRM
Integration of the IPSO Biz CRM makes it an extremely powerful communication tool for quick mass emailing and sales follow-up.
Customizable
Typically, IPSO Biz will handle over 95% of your needs. However, you may have atypical business needs that need to be taken care of. Our technical staff will be glad to look into your specific needs and propose solutions for them.
Bookkeeping has never been easier!
In addition to allowing you to manage all of your company's accounting activities, our accounting module is compatible with Acomba software Acomba X*, Advantage and Sage 50.
Compatible with established accounting software

Do you already have an accounting solution – Advantage* Acomba Acomba Sage X* or 50? IPSO Biz can interface with these products and allow you to keep accurate records. Otherwise, IPSO Biz has its own accounting module to simplify your life:
Management of customer accounts
Account statements, statistics, grandfathering list, fast cashing, deposit slip, multi-currency, management of credit limits, customer blocking.
Management of accounts payable
Prompt payment, statistics, previous lists, check print or direct deposit slips.
Journal entries
Journal entries, lists and reports.
Projected budgets
Forecast sales and expenses over several years, year-end analysis.
Reconciliation
Reconciliation available for all accounts.
Financial statements
Balance sheets, income statements, checklists.
Various types of tax reports.
* In development
Create your submissions in IPSO Biz and become more productive !
Manage your submissions better than ever, and, in one click, convert them to orders. The recommendations and planning systems will be activated to allow you to plan all aspects of your operation.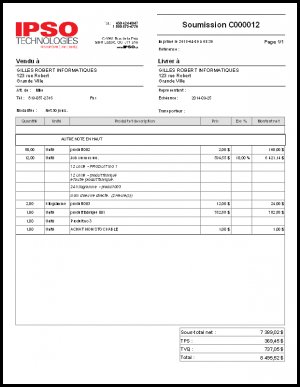 Quotations
Tenders, effectiveness dates, dashboard alerts, rapid conversion to orders, records, and statistics. Print or email your submissions and obtain automatic tracking via our CRM module.
Orders
Complete order management, complete records, record books for orders and statistics. Print or email your documents.
Features: flexibility (taxes, terms and currency options for each invoice), graphic analysis, management of deposits, rapid identification of billables, credit limits, customer blocking lists, and management reports.
This module is fully integrated with the IPSO Biz planning system, which significantly reduces product purchasing and production time, while eliminating duplicate data entry and the risk of errors.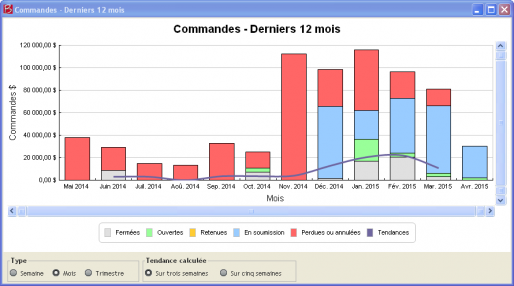 Billing becomes a breeze!
This module allows you to ship and invoice easily, quickly and accurately.
Shipping
Send orders with one click: shipping documents included, identification labels, automatically verification of inventory availability, shipping of materials with or without lot.
Billing
Complete the process by sending invoices to customer accounts with a click. Flexibility (taxes, terms and currency options for each invoice), automatic management of deposits, credit notes, debit notes. Complete history and statistical sales graphs. Integrated communication module.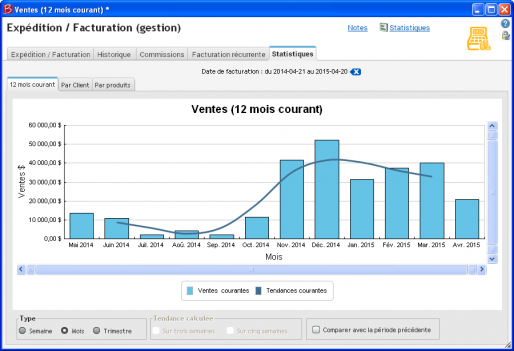 Easy daily inventory tracking!
Manage your inventory efficiently by IPSO Biz, with complete transaction tracking for each inventory lot.
Material / Transactions
Multi-site, multi-batch, expiration management, management of each lot with its individual price, order booking, non-storable products, complete transaction history, statistical graphs. Monitoring of trends, inventory turnover and other available indicators.
Accounting
Accounting procedures with option to load current stock, count lists, and gap reports.
Fully integrated with the IPSO Biz planning system, this module allows you to make purchase recommendations and avoid shortages.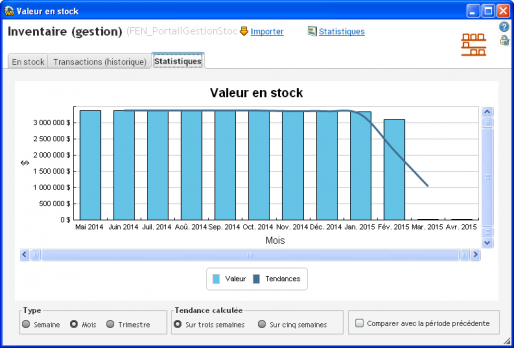 Purchase like never before. IPSO Biz makes life easier with a proven recommendation system that's easy to use.
Integrated MRP makes purchasing easy, reduces inventory while eliminating shortages.
Purchase recommendations
MRP for reconciling inventory, sales, ongoing purchases and production with easy-to-understand purchasing recommendations. One-click ordering. Min., max. and custom planning.
Purchase orders
Complete management of purchase orders, possibility of price requests, supplier price lists, multiple currencies, history, statistics, document tracking.
Goods reception
Goods reception management, labels, manifests, receipt of multiple goods, statistics, and reports.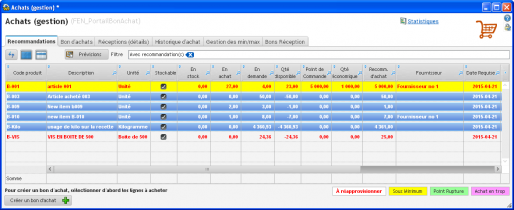 Integrated punch clock system!
For entering hours worked by all workers and employees, to calculate actual costs, to assess indirect costs, and to prepare payroll.
Weekly time sheets
Project mode or manufacturing mode (agenda), management of time banks, vacation banks, sick-day banks, management of indirect costs, productivity calculations, standardization to transfer to existing payroll software, locking of old timesheets. Productivity statistics and management reports.
Know the productivity of your team at all times
A time stamp option is available to facilitate staff presence and activities on the shop floor.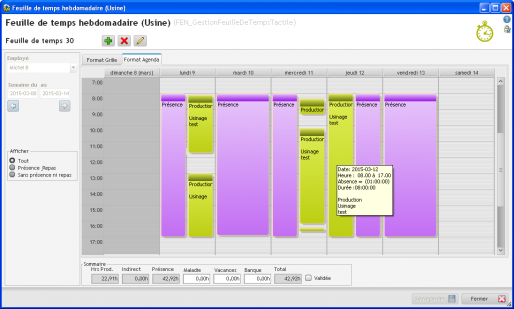 Up, up and away!
A customer management system (CMR) is a must for companies seeking excellent control of the sales process.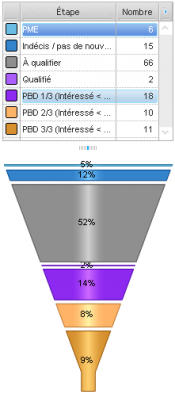 Prospecting
Profiling, mass email mailings, complete communications history, inventory monitoring and management, automation, contacts management.
Sales funnels
Coding levels, graphic displays, grouping according to levels.
Publications
Mass emailing and letters, integrated with communications module.
Communications
Content models to standardize and facilitate your communications, complete history, statistics, monitors and alerts, models compatible with "Business in a box" letters.
The use of a CRM system saves a lot of time and effort, allowing you to easily reach multiple prospects and customers in various markets. It is also an organizational tool that provides effective time management.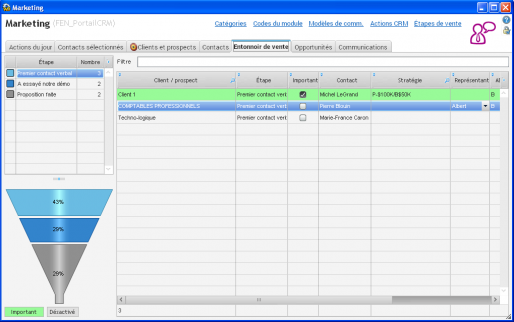 The point of sale is the ultimate tool for an effective counter sale!
(2016 release)
Point of sale
Sales, account payment, credits, returns, coupons, discounts, collecting your customers' email addresses, sending cash register receipts by email, compliant with modern equipment, multi-cash mode, cash lists and reports, statistics.
Able to perform all your transactions using a single window, making the store's point of sale even more effective through the integrated IPSO Biz system.
Challenge yourself…
For companies who desire more, this module can exceed your expectations in business management matters.
Company policies
Human Resources
Job descriptions, employee evaluations, employees' personal information.
Task management
Prioritizing and assigning tasks.
Management Committees
Management meetings, historical data, reporting, follow-up, preparation, assignment, meeting follow-up, agenda reports, documents, meeting control.
Performance indicators display
Factory or office (customization required)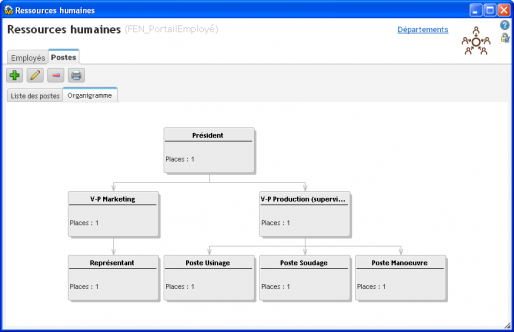 Recent articles
Customer testimonials
"From the very beginning, the IPSO team has demonstrated its willingness to support and assist us by adding some important features for my business, such as information security."
"I use IPSO Biz Fabrication in my business and it's a really great management tool."
"In IPSO Biz Fab, I finally found a complete management solution that's easy to learn and use. IPSO Biz Fab offers all the tools I need to manage my business."
"Through management and timesheet entry with IPSO Biz Fab, it's easier than ever to track the costs associated with my projects at all times."
PAY-AS-YOU-GO OPTIONS for IPSO Biz Professionals (2015)
"Service"
 includes
access to all updates and new versions
 of the product, 
(toll-free) technical support
, 
remote technical support access when needed,
and 
access to our secure e-Learning Centre
.
Network version will be installed on your non-virtual windows server. Users may access via RDP connection (Mac & pc) or direct installation on end-user PC.
"Subscription mode", is a contract-free pay-as-you-go mode. Subscriptions include software usage and service. The software is installed on your premises (server or PC).
IPSO Biz can also be purchased. A service plan is available to keep your software up to date and compatible with future technologies. Call us for details.
A hosted version (accessible via RDP connections over the Internet) is also available. Please call us for details.
Included training hours must be used within one year of installation.
Prices may change without notice. All prices in Canadian Dollars.
Designed for PROFESSIONALS !
Startling statistics
Over 50 KPIs

Drill down your data
Tangible benefits
Gain 5% to 10% productivity

All-in-One integrated solution

No double data entry and reduced lead time

Satisfied customers
To convince you…
Easy to use = steep learning curve

Tutorial videos and adapted training via Internet

Continuous software improvements

Enjoy instant technical support